13 oz. Hobnail Beaded Floral Clear Drinking Glasses (Set of 6)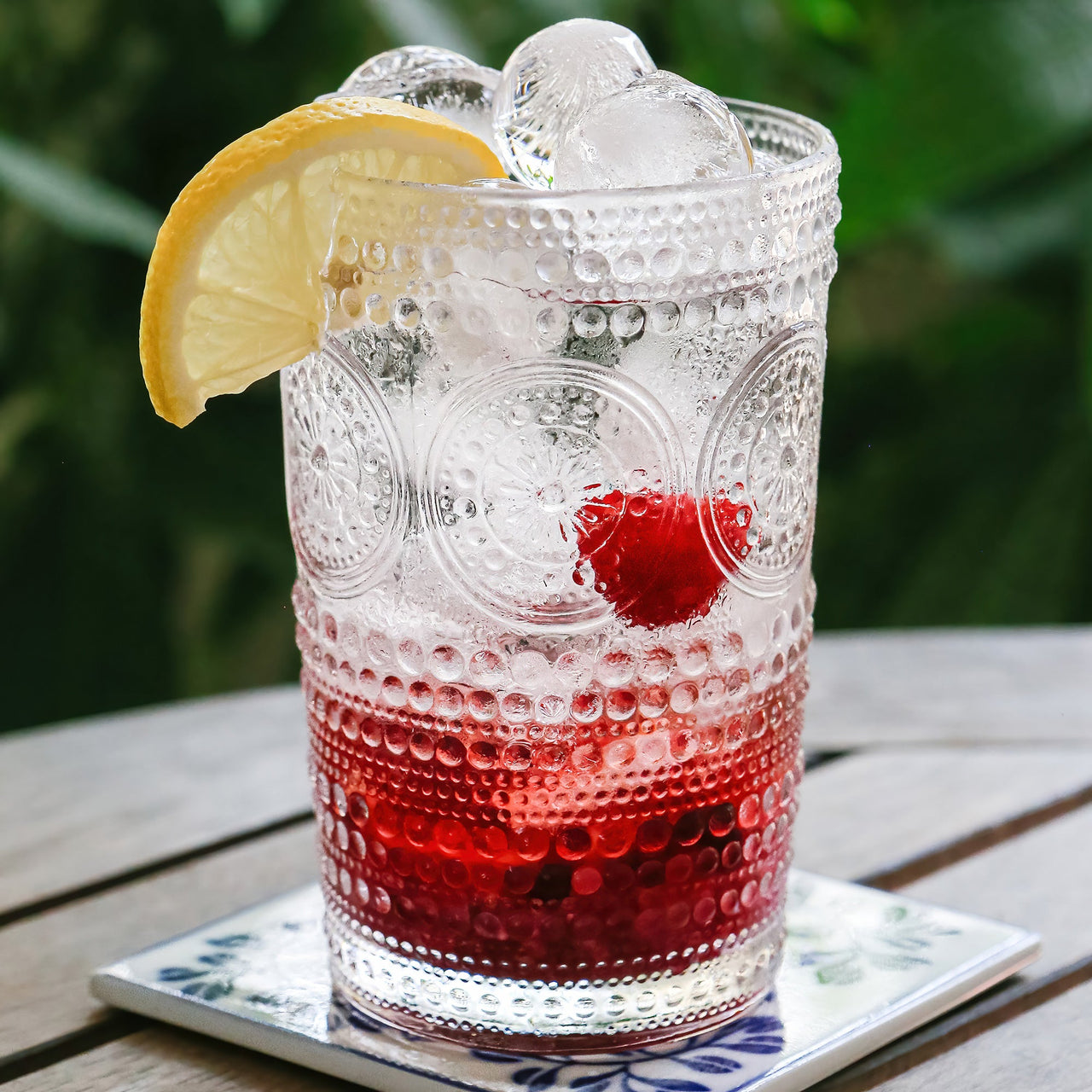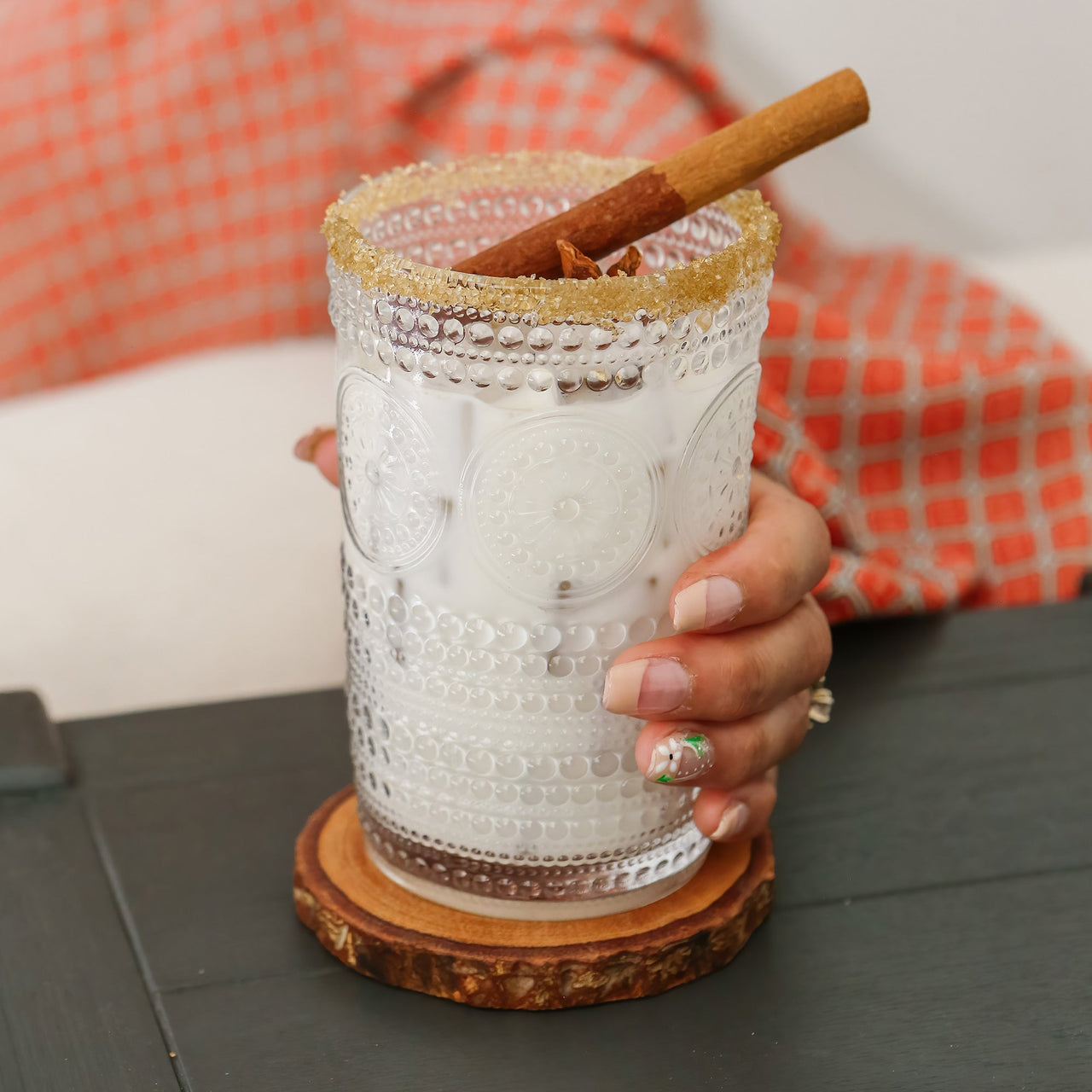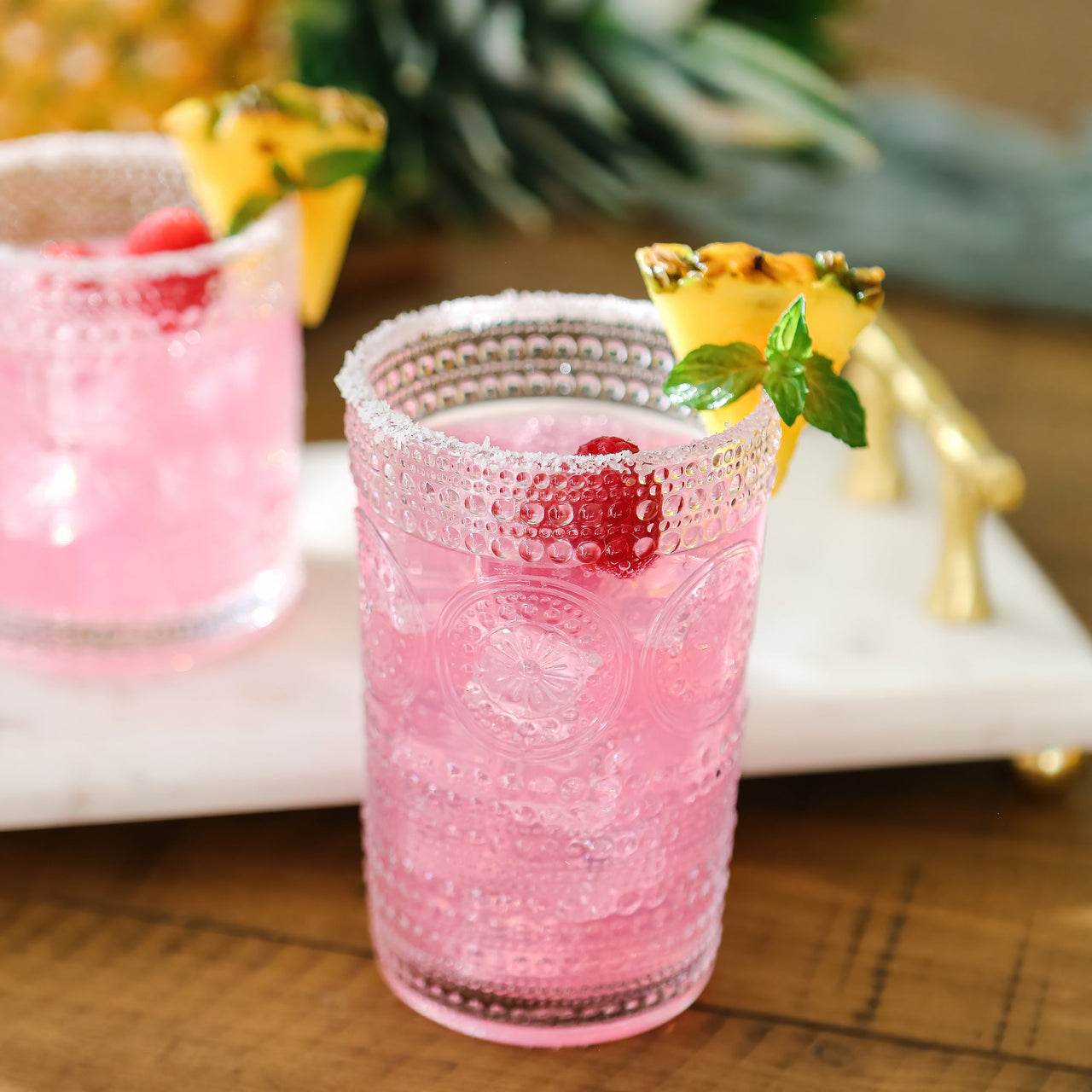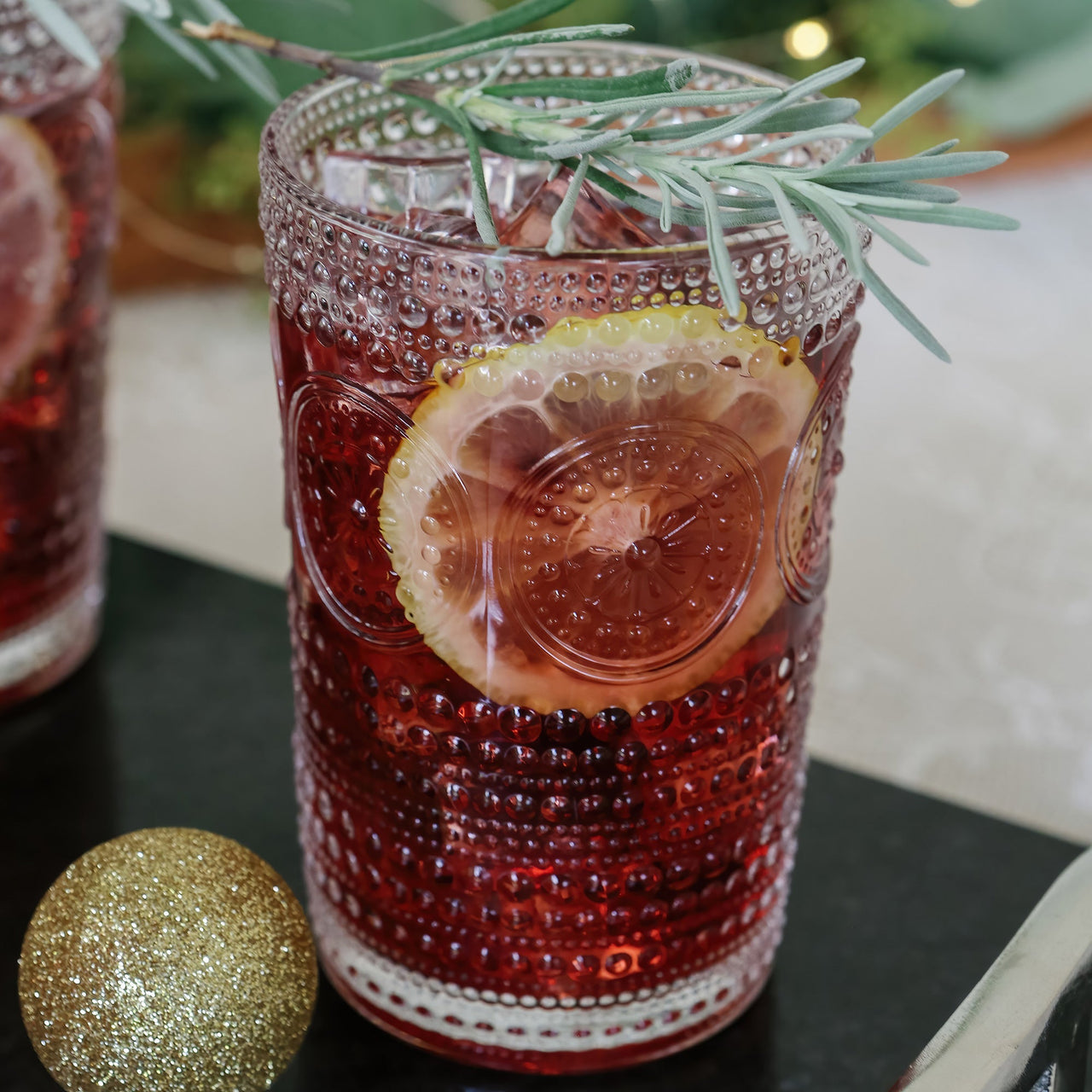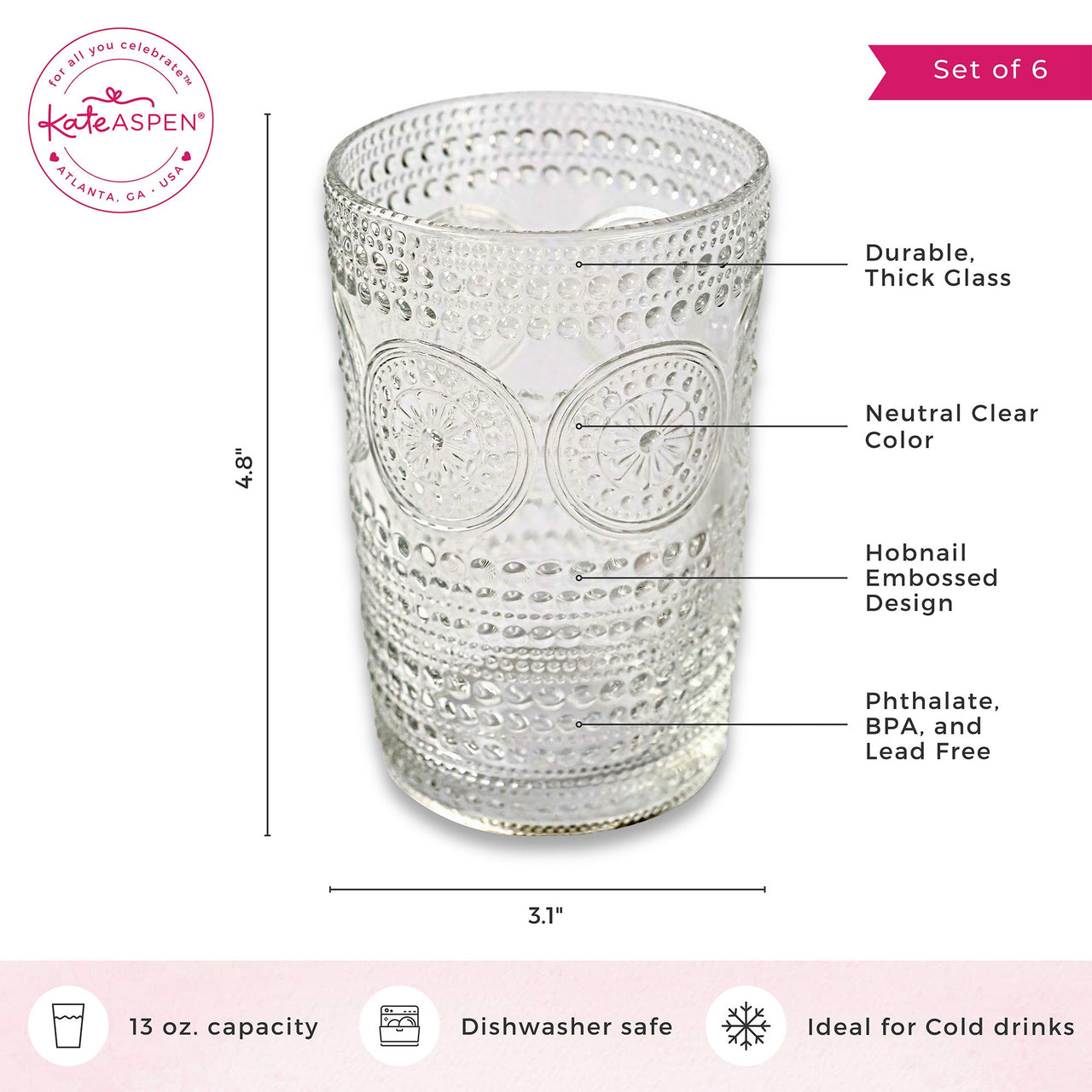 We did not invent her, but we did update her. Our 13 oz Hobnail Beaded Floral Vintage Drinkware in clear definitely exudes elegance, class, and a vintage vibe, but we wanted to give her a little more oomph so we combined the Hobnail Beaded Floral Vintage Drinkware by adding ribs around the edges and even embossed the bottom. With all the added embellishments this drinking glass goes from invisible to the star of the show.
We start with the highest quality of materials because our designs are made from our heart and we want to make sure that they stand up to the test of time. When designing our vintage drinking glasses we want you to be able to take them out every day and use them and to elevate all your special occasions. We end by especially designing a cardboard box that can not only contain them but also protect them and then we also wrap each glass in thick bubble wrap.
Embellishing the glass is not only beautiful but it's useful. It helps keep your drinks colder, there is no fear of your drink slipping out of your hand, and it makes it very sturdy. With all of these design features, that makes this glass a powerhouse when it comes to using it. There are so many craft spirits in production that take so much love and time and attention it is only right that they are served in a glass that showcases them. That is why from home bar cart to luxury hotels and fine restaurants these glasses exude elegance, class, and style.
The best part about the glasses is that they are loved by every age and gender and there is no style that they will not compliment. With that many checks, it makes these ribbed drinking glasses the best gift for everyone on your list. From Father, Uncle, Brother that loves a good drink to Sister, Best Friend, Mother, Aunt, and Grandmother that love a beautiful piece of art that they can use. These glasses are a sure winner. You will definitely want to stock up because these sell out quickly.
Features and Facts:
The 13 oz. Hobnail Beaded Floral Vintage Clear Glass (Set of 6) features 6 clear glasses that each are embossed with horizontal ribbed lines around the top and bottom of the glass with repeating circle flower icons around the center of the glass. Each glass is safely bubble wrapped and shipped in a brown box. Phthalate, BPA, and Lead Free. 10 ounce capacity. Hand Wash Only. Cold drinks only. 
These 13 oz. Hobnail Beaded Floral Vintage Clear Glass (Set of 6) are perfect for any occasion, such as baby showers, bridal showers, holidays and everyday use! Crafted with meticulous attention to detail, the unique hobnail beaded floral pattern adds a touch of sophistication and texture, creating a visual delight that is sure to impress your guests. The durable construction ensures long-lasting use, making them ideal for both everyday enjoyment and special gatherings. With a generous capacity, these glasses can hold your favorite beverages, from refreshing iced tea to a classic cocktail, mocktail, iced coffee and so much more! The set of 6 provides ample glasses to entertain guests and create memorable gatherings. Whether you're hosting a dinner party or enjoying a quiet evening at home, these Hobnail Beaded Floral Vintage Clear Glasses are a must-have addition to your drinkware collection.
Product measures 3.1" w x 4.8" h x 3.1" d
Packaged product measures 10.2" w x 5.5" h x 6.9" d
Glass
Clear
Includes Set of 6 Drinking Glasses
Assembly Required: No