Dinosaur Place Card Holder (Set of 6)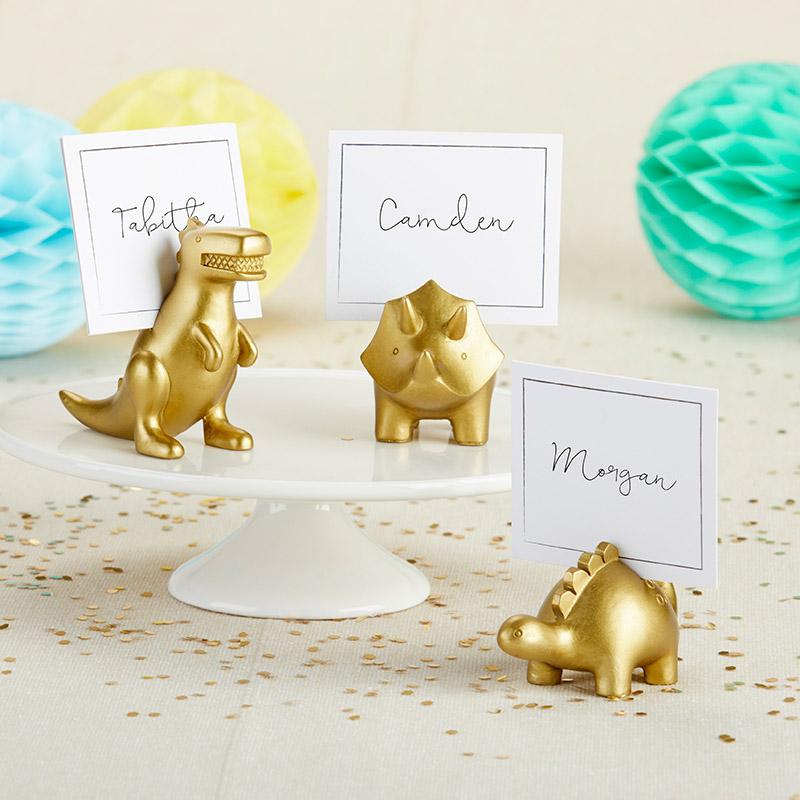 These milestone years only come once, and Kate Aspen's Dinosaur Place Card Holders make sure they're extra special! At a dinosaur birthday, the place card holder set has your table assignments taken care of, and acts as party favors so each guest can take home a piece of the fun. A chic kid's birthday decoration, the Dinosaur Place Card Holder set of 6 is made from polyresin and done in an elegant dark gold. Each place card holder comes with a matching place card for simple seat assignment for every attendee! The place card holders also make a whimsical addition to any wedding for bridal shower table!
Features and Facts:
6 gold dinosaur place card holders; 2 stegosaurus, 2 t-rex, and 2 triceratops. Set comes with 6 square place cards with a versatile black border.
Place card holders made from durable polyresin.
White box with info sticker packaging.
Stegosaurus measures 1.1 w x 1.3" h x 2.4" d, T-rex measures 1.1" w x 2.2" h x 2.6" d, Triceratops measures 1.3" w x 1.5" h x 2.5" d.
Packaged product measures 10" w x 8.5" h x 7.5" d.
Sold in sets of 6 place card holders with matching cards.