Enchanting Unicorn Gift Set Bundle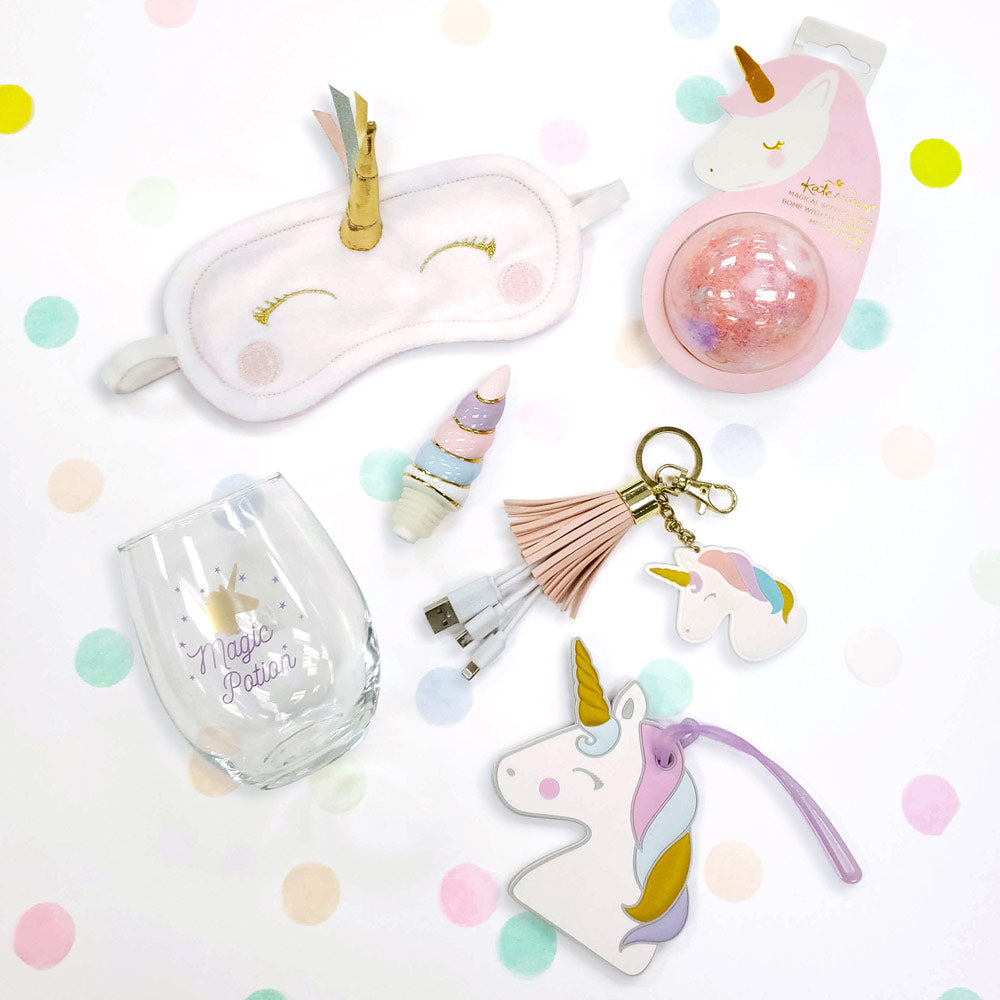 Kate Aspen presents this adorable Enchanting Unicorn Gift Set Bundle for the ultimate gift for her. The Enchanting Unicorn Bundle from Kate Aspen is a special treat for a night at home spent resting and relaxing. Enjoy sipping your favorite bubbly with the stemless wine glass, keep your wine sealed with the unicorn horn bottle stopper, and relax the night away with a unicorn-themed scented bath bomb and a unicorn sleep mask. The bundle also includes a matching unicorn travel luggage tag that perfect for a girl's weekend to help catch up on some much-needed sleep. The soothing fruity scented bath bomb is perfect for relaxing bath time before sleep and inside it holds a heart shaped piece of vellum with the message "You are magical like a unicorn". A unicorn horn bottle stopper is perfect for when the bottle needs to be closed for the night. The sleep mask blocks off the light for a blissful resting slumber at home in your own bed or when you take a vacation. A unicorn luggage tag can be affixed onto your baggage on your next getaway and is a great way to be able to spot your bag! This bundle is especially magical as a bridesmaid gift which makes this bundle an exceptional gift for her. Each coordinating piece by Kate Aspen was handpicked just for you. Take some time out from your busy schedule and treat yourself!
Features and Facts:
1 Unicorn Sleep Mask. White velour eye mask has gold embroidered eyes, pink embroidered cheeks and a gold lame horn with pink, gold and blue ribbon details; sleeping eye mask has a light pink fleece backing and a white elastic band. Eye mask is hand wash only. Measures 7.85" w x 3.7" h x 0.25" d (2.75" d including horn); Packaged product measures 7.85" w x 5" h x 2.75" d.
1 Magical Unicorn Bath Bomb. A multi-colored round bath bomb with a fresh fruity scent. Bath bomb comes in unicorn-shaped blister packaging with clear plastic window. The bath bomb features colors of pink, teal, purple, and yellow, and inside it holds a heart-shaped piece of vellum with the message "You are magical like a unicorn". Blister packaging. Measures 2.8" w x 2.8" h x 2.8" d. Packaged product measures 3.5" w x 6.4" h x 2.8" d. Phthalate-free, Paraben-free, Gluten-free, Vegan/Cruelty-free, Sodium lauryl sulfate-free, Dye-free, Fluoride-free, Sulfate-free, and Aluminum-free. Not recommended use for children under 3 years or expecting moms.
4 Enchanted Party 15 oz. Stemless Wine Glasses. Clear wine glasses are presented without the stem and hold 15 ounces. Measures 4.25" h x 3.5" in diameter. Hand wash recommended.
1 Unicorn Horn Bottle Stopper. Unicorn horn ceramic bottle stopper with the horn being (top to bottom): purple, pink, turquoise and white. With gold foil between the layers. Measures 1.25" w x 1.25" d x 3.75" h. Bottle stopper is hand wash only.
1 Unicorn Luggage Tag. Rubber luggage bag tag is in the shape of a unicorn head with pink, blue, gold and purple colored mane; paper insert has a place for a name, address, and phone number. Luggage tag is hand wash only. Measures 3.9" w x 4" h x 0.25" d; Packaged product measures 4.1" w x 6.3" h x 0.25" d.