Jumbo Gender Reveal 12 Piece Balloon Set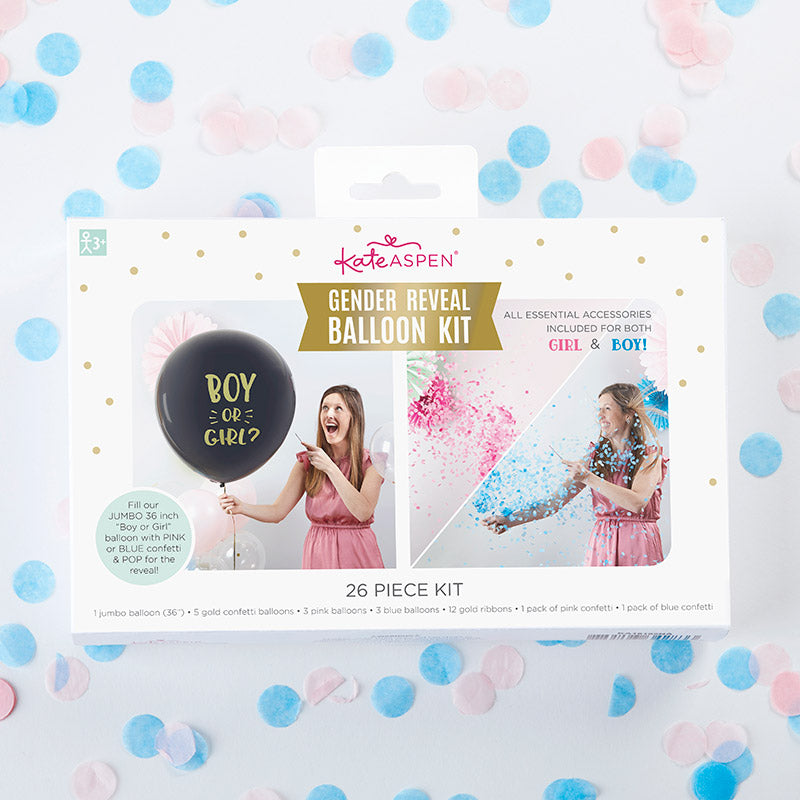 Bring some extra fun into your gender reveal with Kate Aspen's Jumbo Gender Reveal 12 Piece Balloon Set! If you're looking for a simple and exciting gender reveal idea, the balloon set will let everyone know just what your little bundle of joy will be with the simple pop of a balloon. The set comes complete with a giant black Boy or girl?" balloon, 11 standard balloons in pink, blue, and gold confetti, one pack of blue confetti, one pack of pink confetti, and 12 pre-cut ribbon strings. To reveal the big moment, simply pop the balloon filled with the appropriate colored confetti!
Features and Facts:
Large black balloon with gold foil "Boy or Girl?" text. 3 light pink and 3 light blue balloons printed with a gold foil question mark, and 5 clear balloons with gold foil confetti inside. 1 bag of light pink tissue confetti and 1 bag of light blue tissue confetti. 12 gold foil ribbon strings pre-cut to be attached to balloons.
Sold individually.
Jumbo black balloon expands to 36".
Pink, blue and clear balloons expand to 12".
Black balloon measures 8.3" w x 13.0" h x 0.4" d.
Blue, pink and clear balloons measure 1.6" w x 4.5" h x 0.4" d.
Gold foil ribbon measures 0.2" w x 36" h x 0.04" d.
Confetti packs measures 4.3" w x 4.3" h x 1.0" d.
Packaged product measures 5.9" w x 5.1" h x 1.1" d.